Welcome to River City Grill
STEAK
SEAFOOD
VEGETARIAN
VEGAN
---
We offer a UNIQUE menu based on the regional cuisines of the Mediterranean, Pacific Rim, India and the Caribbean;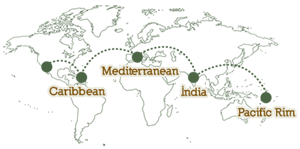 with an emphasis on fresh fruit and vegetable sauces, whole grains and exotic spices - foods that are naturally LOW IN FAT and RICH IN FLAVOR.
---
Call to Place Your Order:
928-782-7988
Please ask about our amazing desserts and fabulous wine deals.
We're happy to bring your food out curbside or you may come in the restaurant to pick up. We need between 15-40 minutes per platter depending on how busy we are. If you call earlier in the day, let us know what time you'd like to come pickup, otherwise we're assigning spaced out pickup times per guest. If you're unable to pick up we can deliver in town.
Thank you very much for supporting our business and our crew. We're very grateful to the Yuma Community. We're a great little town and we love our patrons.
River City Grill will remain open during normal business hours and will be offering a new TOGO menu for the next few weeks.
Our entrées range from $8 to $14 For a lunch size portion of many of your favorites.
Our full menu is available through DoorDash or for pick up.
Click Here To Order Delivery Online
If you'd like to dine in our patio is a lovely choice and inside diners will be spaced 6 feet apart. We will gladly deliver to those who don't DoorDash or are unable to pick up. Just call 928-782-7988 to make arrangements. Thank you for your continued patronage.
---
We serve wild river salmon, halibut & true cod from Alaska, naturally raised beef, Kobe burgers, as well as house made breads and desserts.

Reservations Appreciated but Not Necessary
Please call if arriving after 9:00pm
Lunch: Mon. - Sat. 11:00am - 2:00pm
Dinner: Mon. - Sat. 5:00pm - 10:00pm | Sun. 5:00pm - 9:00pm
CATERING AVAILABLE

On and Off Site. Call River City Grill today to make plans for your next party!
PRIVATE PARTIES

3 patios available. Over 150 seats on our outside patios.